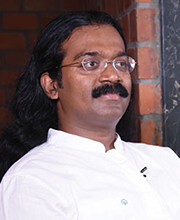 Dr. Shree Varma
Dr. Shree Varma hails from a rich lineage of acclaimed Acharyas' belonging to the famous Travancore Gurukulam spanning over four centuries. Besides graduating in Ayurveda from Dr. M.G.R Medical University, Chennai, he completed his Gurukulam way of training in Varma, Yoga, Siddha, Herbal Medicine and Energy Healing. Dr. Shree Varma's widespread teachings on health and wellness have got him international accolades. Dr. Shree Varma is at the head of several Ayurvedic Hospitals across India and Ayurvedic manufacturing units according to ancient recipes transmitted in his family.
He is part of many platform of Yoga in India and has been appointed Joint Secretary (T.N) of the Indian Yoga Association that brings together the heads of the most renowned Yoga Institutions in India. Dr. Shree Varma has been a practitioner of Heartfulness Meditation for the past 20 years and is a certified Heartfulness Meditation Trainer. His interest in promoting Yoga for Health prompted him to participate in the elaborations of new yoga programs. In 2017, he defined the goals of the Heartfulness Yoga School under the direct guidance of Shree Kamlesh Patel and participated in the launch of the first Heartfulness Yoga Programs. He is constantly supporting the expansion of the Yoga Programs in Heartfulness and is an advisor to the school.
---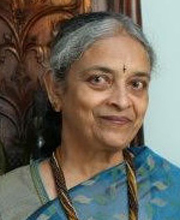 Viji Vasu
Viji Vasu has been a trainer of Yoga for over 30 years now. She learnt yoga under the well-known Shri T K V Desikachar (the son and a direct disciple of Shri Krishnamacharya) at the Krishnamacharya Yoga Mandiram, Chennai, where she was a Senior Yoga Consultant. Subsequently, she co-founded Yoga Raksanam fifteen years back, and is the Director of Academics there. Viji is certified by the International Yoga Alliance and has trained thousands students on the 200 hour Diploma Course in Yoga accredited by the International Yoga Alliance.
She has the experience of training students of different nationalities and background of Yoga. She has also traveled abroad to offer the Diploma program to candidates in Europe. In the tradition of Krishnamacharya, her style has 2 unique features – taking a holistic lens to Ashtanga Yoga beyond Asana practice and personalizing or customizing practices to the needs of individuals. By education, she completed her post-graduate (M.Ed) in Education. She lives in Chennai with family. More importantly, she has been a practitioner of Heartfulness for 20 years now and a Heartfulness meditation trainer for the last five years.
---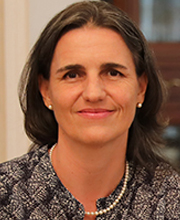 Dr. Véronique Nicolaï
Véronique Nicolaï is a French Pediatrician (MD), meditation trainer and Yoga instructor (RYT200 – RYPT) settled in India with her family since 1999. She started her journey in Yoga with Heartfulness meditation in France as a medical student. Convinced that meditation is one of the simple lifestyle adjustments that can bring about significant change in the field of health, she currently drives Yoga events and courses for the Heartfulness Yoga School.
---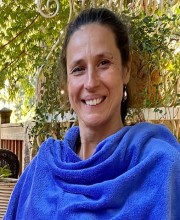 Donna Andreychuk
Donna Andreychuk is a Canadian trained Osteopath, Yoga teacher (E-RYT 200), meditation trainer and Brighter Minds facilitator. She has taught for 27 years and studied under some of the most senior teachers in the Iyengar lineage as well as teacher training in Chakra yoga and Universal yoga. She teaches classes and courses out of her 'boutique' yoga studio in Kirkland, Washington while maintaining a practice in Osteopathy. Recently joining the Heartfulness Wellness team has felt like a prophecy fulfilled and is truly an ambassador for spreading the light!
---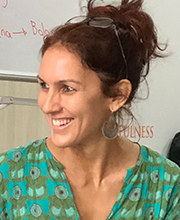 Marion Marceau
Prior to being a yoga teacher, Marion had a strong experience as an educator in France and abroad. Her love for Indian culture pushed her to settle down in India for many years where she learned Heartfulness meditation under the guidance of her Master and expanded her knowledge and experience in the realm of Yoga. Marion has been certified as a yoga teacher from the Sivananda Yoga Vedanta organisation in India. Marion is a Registered Yoga Teacher (RYT 500) with Yoga Alliance.
---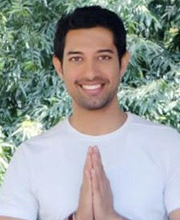 Amar Srividya
Amar Srividya's passion for yoga led him to explore different styles of yoga: in Hatha Yoga E-RYT500 hrs, Ashtanga Yoga (Mysore) and Prenatal Yoga and Pranayama course from the Bihar School of Yoga. He completed his Master of Yogic Science. Amar has been training people of different age groups in India and abroad. Prior to this, Amar has six years of work experience in the Human Resource Departments in the corporate sector.
---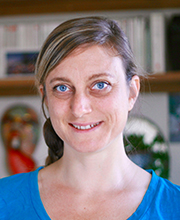 Penelope Baudoin Arkilovitch
Penelope lives in Paris and has been involved with Heartfulness Yoga since 2018. She fell in love with Yoga in India in 2009 where she started a life-long journey. Yoga entered her everyday life, as a student first and very soon trained as a yoga teacher in 2011 in Sivananda School (E-RYT200). She started meditation with Heartfulness in 2012 and became a meditation trainer in 2017. After learning about the body practice, she discovered the mind process and explored positive psychology in USA. That's how her vision of yoga was developed by learning, teaching and sharing, and now she can say YOGA IS LIFE.
In order to build a bridge between traditional ways of teaching yoga and western ways of life, she has been working with the Heartfulness Wellness team, as a Lead trainer and as a coach, supporting the team and helping the TTC to evolve into a program influenced by collective intelligence and creativity. Her ability of teaching and creating conditions for learning pushed her to work on the online TTC which is about to be launched in 2020. This new format is a huge step to offer Heartfulness Yoga to the world and she is really excited to be part of it.
---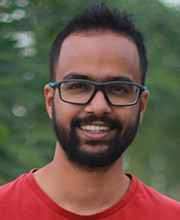 Ankur Naik
Ankur is a fun-loving engineer from Bits Pilani. He started Heartfulness Meditation at Ashoka University. Intrigued by it, he took the opportunity of doing a fellowship with the Heartfulness Institute. Teaching and learning went hand on hand during this time. He got certified as a yoga teacher on the way (RYT200) in 2018 and enthusiastically organized many Yoga programs. He is currently working as a professional Yoga Teacher and project manager with the Heartfulness Yoga School at Kanha Shanti Vanam, Hyderabad.
With his joyful and energetic attitude, connecting with new people came naturally to him. Exposed to a creative environment full of opportunities and talented people, and with his avidity to learn everything that crosses his path, Ankur has developed multiple skills that make him a well-rounded multi-talented Yoga Engineer. He is currently focussing in developing the Online Yoga programs.
---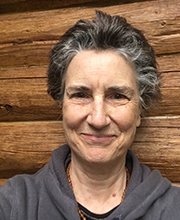 Margery Anderson
Margery Anderson lives in Vermont, a state in northeastern USA. After being certified as a Kripalu Yoga teacher and a Phoenix Rising Yoga therapist, Margery was introduced to Svaroopa™ yoga in 1996. She trained for over 11 years with its originator, Swami Nirmalananda Saraswati (then known as Rama Berch). She has been teaching Svaroopa™ yoga and practicing Svaroopa™ yoga therapy since 1997 and 1998, respectively, earning multiple advanced certifications in the following years.
---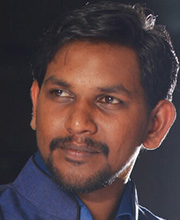 TG Vishnu
Deciding to be a fellow of Heartfulness in 2018 was the life changing decision Vishnu made. For several years he worked as a Computer Technician in Kerala, South India, which taught him to interact with people from various backgrounds. As Vishnu was reflecting on his role to make this world a more joyful and peaceful place, these thoughts led him to become a Brighter Minds facilitator where he started interacting with children. "I never felt bored in these BM classes and was always amazed about how the time flew when I was with kids."
To widen the reach of Brighter Minds and to develop his qualities as a computer person, as a presenter, a facilitator, a meditator, and a Heartfulness meditation trainer, Vishnu decided to join the Heartfulness Fellowship program. As a fellow, teaching and learning were combined and Vishnu became a certified yoga trainer (RYS200) in 2018. Vishnu us now part of the Heartfulness School of Yoga and works joyously to organize many Yoga Programs. His former education has become very handy in this virtual world and he is a key element to develop online sessions and courses. Vishnu continues to teach Yoga to children at school in the Heartfulness Learning Center, Kanha. "My inner goal is to help people integrate yoga as a part of their daily life."
---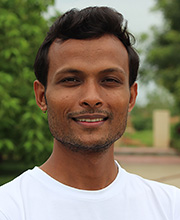 Bhushan Bhukte
Bhushan Bhukte has been practising yoga for 6 years. He is a certified Yoga trainer with M.A in Human Consciousness & Yogic Science from Gurukula Kangri Vishwavidyalaya in Haridwar. He has completed his P.G Diploma in Yoga Science and received a QCI Level -II Yoga Teacher Certification supported by Ministry of AYUSH (Govt. of India). Additionally he completed the RYT 200 hours at Heartfulness Education Trust, Hyderabad. Bhushan has been teaching Yoga since 2015 and is currently working as a full time trainer in the Heartfulness School of Yoga.
Through Yoga, he discovered the importance of centering, focus and balance. He firmly believes in empowering the society through knowledge sharing and aims for excellence in his field. He is known for helping others with loving discipline and encouragement while keeping it fun.
---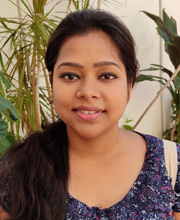 Soumya
Soumya was attracted first by science and completed her engineering in 2016. She loves learning and sharing her learnings and worked as a teacher for some time. Since early childhood she was highly influenced by Vedantic and moral stories. Great saints like Shri Ram Chandra, Kabir and Vivekananda framed her life through their teachings. She is an omnist and believes life is too short to discriminate when we all are originally the same.
She got a golden opportunity to work with the Heartfulness Institute, under the umbrella of spirituality and stepped into as a fellow working with Brighter Minds and the Wellness and Yoga Team. Since the completion of her fellowship, she is working as part of the Heartfulness Yoga Team. She is a yoga trainer (RYT200) since May 2018 with an inclination to use Yoga for prevention, patients and prenatal yoga. She teaches Yoga for middle school children.
---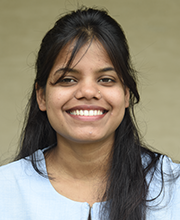 Varsha Kushwaha
Varsha Kushwaha is certified 200hr Heartfulness Yoga Teacher in the Heartfulness Yoga School based in Hyderabad, India. She lives and works in Kanha Shanti Vanam which has the world's largest meditation center! She has also trained with the renowned Viji Vasu in the Krishnamacharya style of Yoga with whom she has certified as a Wellness Yoga 200 hr trainer also.
Her greatest passion and love is to teach and share her love of Yoga with the world. She is currently pursuing her Advanced Yoga teacher Training, PG Diploma in yoga and is also completing her Pre-natal Yoga education.
---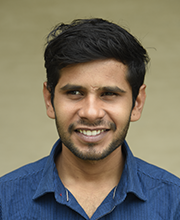 Vaibhav More
Jouneying from a Bachelor of Arts degree to becoming a Yoga Trainer has been a remarkable one for Vaibhav in pursuing his passion. Meditation and simple self-practice gave him solace, balance, awareness and centeredness. This led him to getting trained and certified in Yoga Teacher Training 200 hrs and pursuing his Advanced Yoga Training 300hrs from the Heartfulness Yoga School, Hyderabad. Vaibhav is also certified (200hrs) in Wellness Yoga under Viji Vasu. Vaibhav can conduct yoga classes for beginners as well as advanced yoga classes.
His passion is to motivate everyone in cultivating wellness and health with the help of Yoga. If given a choice, he would breathe, eat, and sleep yoga! He loves to meditate and has been practicing meditation for many years now.
He is also interested in video editing and filming. He also loves to travel and meet people .
---
Irina Tashmetova
Irina's career in Yoga has started since 1996, when she first joined a renownedgroup of Guru B.K.S. Iyengar followers from CIS. Meanwhile, Irina had been pursuing an active personal search of yoga knowledge. She has participated in a good number of masterclasses, seminars, trainings, festivals, conferences and consequently became a recognized yoga practitioner inRussian-speaking countries. She attained her first "Yoga Teacher Certificate" from the National Training Center of Uzbekistan in 2001, and completed a one-year Yoga TTC at the Indian Cultural Centerin Tashkent in 2004.
Irina started to teach yoga for groups since 2006, in the biggest Yoga Center of Tashkent. Eventually,Irina Tashmetova became a recognized yoga teacher in Uzbekistan and many other Russian-speaking countries. More than 5000 students have attended her yoga-classes so far. These days – about 300 studentsregularly attendher online and offline yoga-classes. She has taught 43 yoga-teachers, and many of her TTC students are working now as yoga-teachers in such countries as: Uzbekistan, Russia, Kazakhstan,Ukraine, OAE, USA and Canada.
Meantime,Irina continues to play an active social role in popularization of yoga,meditation, wellness and healthy lifestyle. She has become a demandedconsultant and mentor for the topicsof balancing between material and spiritual priorities, maternity,personal, family and professional life of women.
---
Sangeeta Padmanabhan
A long time practitioner of the Bihar School style of Yoga, Sangeeta Padmanabhan did her Teachers Training from 'The Yoga Institute', Santacruz East, Mumbai in 2005. She has also secured a 2-year Post Graduate Diploma in Yoga from the Mumbai University. Sangeeta has been teaching classical and therapeutic Yoga in Juhu Mumbai (along with pregnancy yoga, kids yoga and yoga for corporates) for over fifteen years and wrote on Yoga for health magazines.
She started the practice of Heartfulness Meditation in 2010 which she now combines with her experience of Yoga. She currently has relocated to Chennai where she continues to teach and transfer her experience to young Yoga teachers as a volunteer in the Heartfulness Yoga School.
Sangeeta also has a Bachelor's Degree in Economics, a Post Graduate Diploma in Garment design from the SNDT Women's University, Mumbai (Juhu) and worked in Mumbai as a Garment merchandiser and as a visiting faculty member at the SNDT Women's University.