The HEART Program
The HEART Program is a teachers training program that spans one academic year consisting of five components, which equip teachers with Heartfulness practices, life skills and knowledge for quality educational outcomes.
The Need
Teachers are devoted to making a positive change in student's lives. A teachers' role is demanding physically, mentally and emotionally, yet most teachers' training focuses only on pedagogy and content, without developing social, emotional and cognitive abilities, shown to be more important as qualities for leaders in today's world.
The Intervention
Impart the Heartfulness methods to teachers through a multi-step year-long journey.
A Heartful Teacher
A Heartful Teacher will be a role model, one who is inspired and nurtures inspiration in students. Here are some specific qualities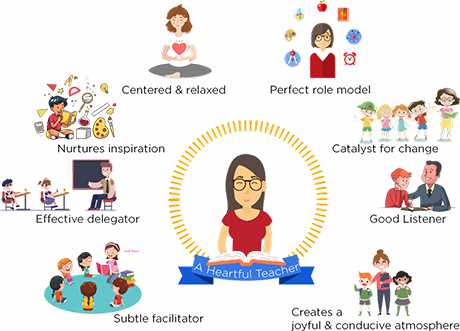 The Heartfulness Way Curriculum for Students
The Heartfulness Way Curriculum is designed for students from grade 1 to grade 9. Our mission is to engage students in their own growth that bring emotional and social intelligence as well as confidence and balance through simple lesson plans filled with engaging stories, activities and fun games.
The Need
The International Commission on Education for the 21st Century clearly sets as a fundamental principal that "Education must contribute to the all-round development of each individuals – mind and body, intelligence, sensitivity, aesthetic sense, personal responsibility and spiritual values."
Curriculum for STUDENTS: Grades 1- 9
"Creating a loving, compassionate learning environment through heart-based approach"

A Spiral curriculum for students of Grades 1-9

Lesson plans for Teachers and Activity workbooks for Students

A comprehensive training program for Teachers (The HEART Program)

"Exploring the Inner Game" Fun-filled activities for Students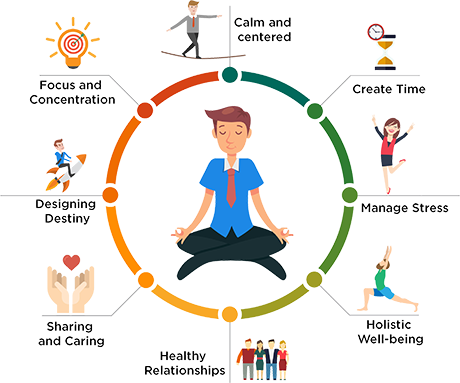 The HELP Program
Heartfulness – Experience Life's Potential
The Heartfulness Experience Life Potential is a 16 week certificate course for students of grade 10 to grade 12, on life-skills and values that equip them with Heartfulness practices, skills and knowledge for quality educational outcomes.
Heartfulness Institute currently offers the following Teacher Training Programs.
Teachers are requested to choose from this list of programs and register
for the program that suits them best.
What do they learn
Here are a few testimonials and feedback received from some of the teachers.

who have attended our programs: