Heartfulness Fellowship
---
Vision
The Heartfulness Fellowship is a year-long fellowship which combines intensive meditation practice alongside professional training in one of Heartfulness interest areas. The aim of the fellowship is to empower candidates both spiritually and professionally so that they may become Heartfulness Ambassadors and active visionaries in India and around the world.
The Fellowship
---
A unique opportunity to become an integral part of the Heartfulness movement.
A one-year program with stipend and accommodation to support your learning.
Dedicated expert trainers and mentors to help you grow and gain real-life experience.
Choice of postings based on candidate's skills, interest, potential and mission's need.
A chance to become grounded in the practice with practical experience and in-depth knowledge of key points of the philosophy of Sahaj Marg.
A platform to develop valuable skills while acquiring new competencies that will benefit the candidate, the Mission and the society at large.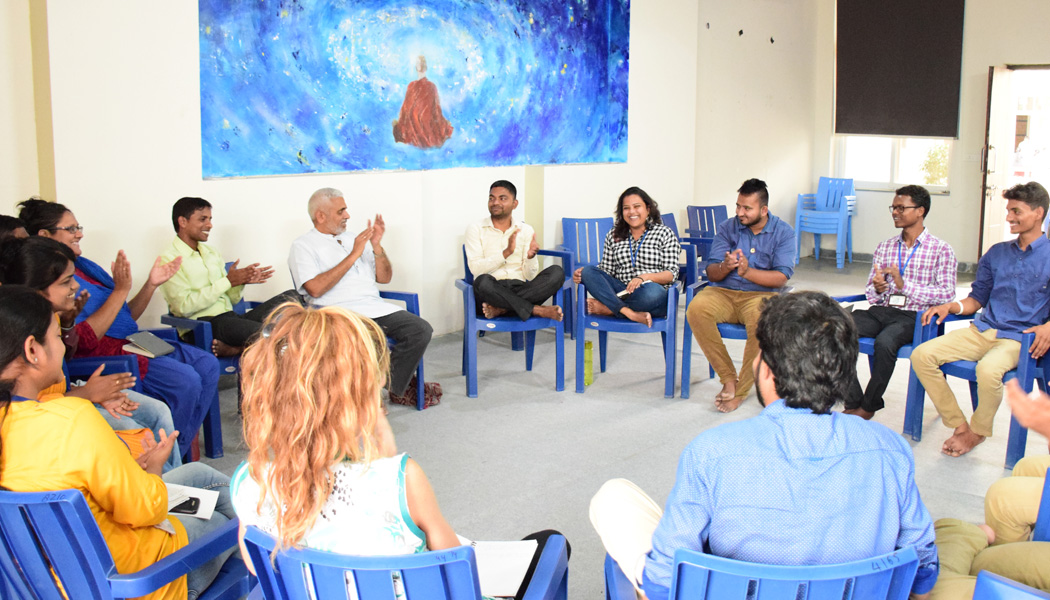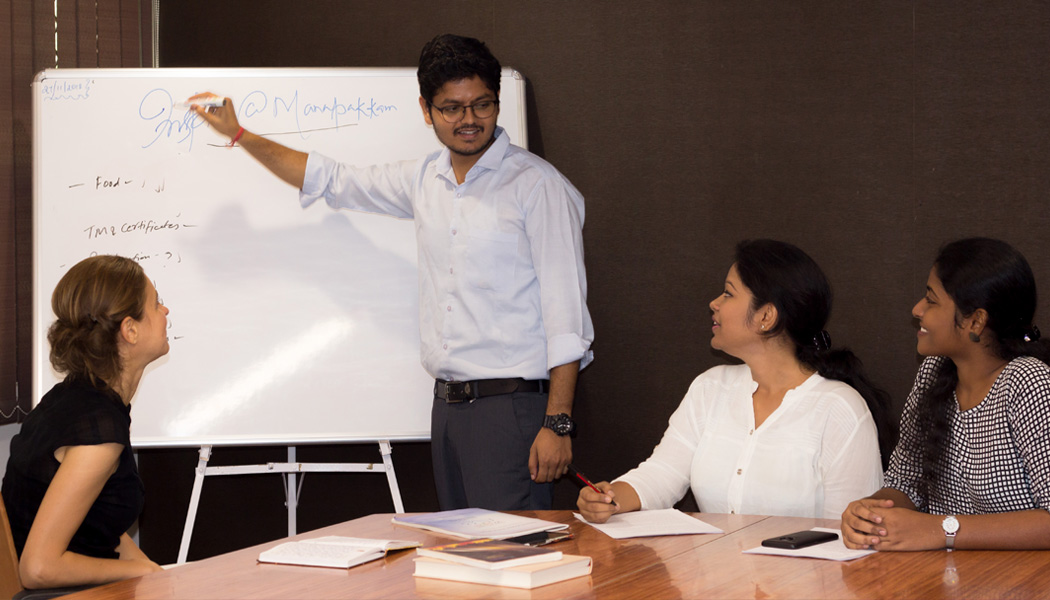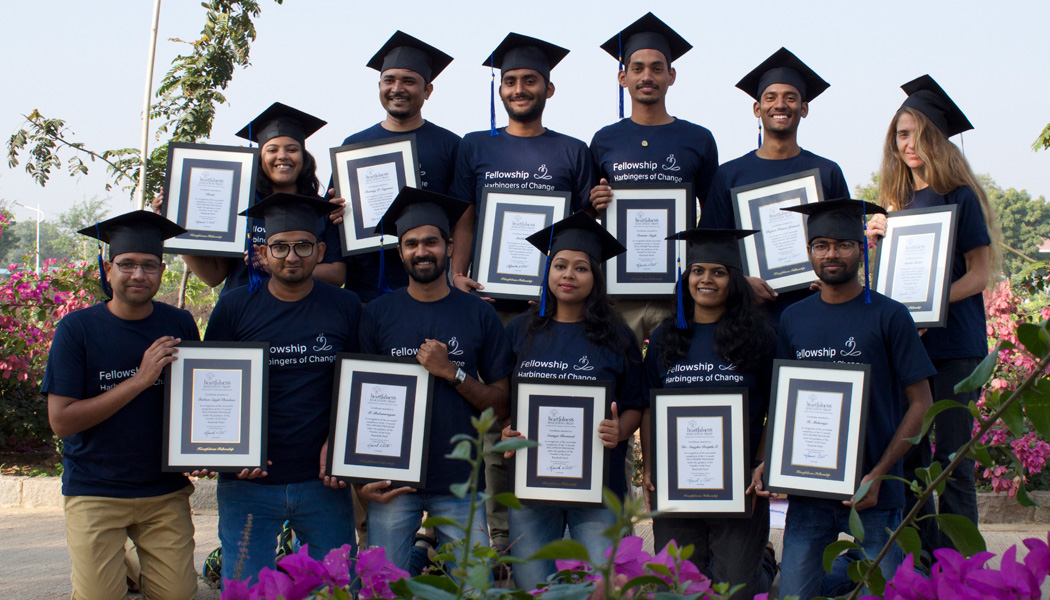 Application
---
Eligibility
Existing practitioners of Heartfulness, who have been practicing the system for a minimum of 2 years
Time and willingness to travel and live away from home and be relocated in one of the Heartfulness centers across India for the period of the program
Recognised undergraduate in any discipline
Program open to youth under the age of 30 only
Strong extracurricular engagement, specially previous experience in Heartfulness activities
Written and oral communication skills in English
---
Profile
Given the eligibility criteria above, we will be giving particular attention to the candidate exhibiting passion to carry forward the Heartfulness vision, enthusiasm to work in team, a self-driven and mature attitude and the openness to learn.
---
Application and selection process
Applications for Fellowship July 2019 are open!
Application form: Applicants are invited to fill out an online form with their educational and professional details.
Motivation and interests: The eligibility criteria are applied here and selected applicants are invited to share more details about their interests in the Heartfulness movement and motivation to join the program. You will be given access to a Motivation Form. This lead to an interview with the Fellowship Team.
Interview with mentors: The selected profiles are then directed to the respective mentors. Mentors establish a direct connection and if possible a face-to-face interview.
Assessment by HR: Candidates are further interviewed by the department of Human Resources of the Heartfulness Education Trust.
Final selected applicants: The final list is approved and the selected fellows receive an official letter from the Heartfulness Education Trust.
---
Timeline for 2019
Third batch of Fellow students started in February 2019
March/April 2019 – APPLY: Fill up the Application Form
April 2019 – INTRODUCE YOURSELF: Fill up Motivation Form that will be sent to selected applicants
April/May 2019 – INTERACT:
April onwards online interview with Fellowship Team
April Bhandara – Face to face interviews with Fellowship Core Team
30st of April 2019 Last date to submit applications
May End 2019 – COMMIT: confirm your registration after reception of the official letter from the Heartfulness Education Trust
July 2019 – ENROLL: First week July 2019 induction program in Kanha Shanti Vanam
30st June 2020 – Last day of the program
---
International Students
International students can enrol in the program provided that they are eligible to obtain an 'Internship Visa'. Please check the conditions within your country to fill this request. HET cannot enrol overseas fellows on any other kind of visa.
---
Our Mentors

---

Guest Speakers

Our Fellowship program offers the possibility to interact with accomplished people from different walk of life, nationality, educational background who have embraced Heartfulness as their lifestyle and have excelled in their professional as well as spiritual life. They are sharing essential tips from their professional experience, guidelines for a balanced life, spiritual insight, lifestyle adjustments so as to live a life to the fullest, a life led by the heart.

Our mentors include: Vani Kola Venture Capitalist, MD Kalaari Prashant Vasu Partner at McKinsey & Company Dr. Elizabeth Denley Research, Curriculum Development and Editor NS Nagaraja Dr. Snehal Deshpande Developmental therapist and Director CME & many more…
Program
---
Program Design
While the program is evolving, the fellows are given a strong training in their stream and a wide range of experiences to develop professional and personal skills through:
Classroom sessions: On a set of common topics such as Sahaj Marg Philosophy and presentation skills, other soft skills and so on. The program offers classroom sessions on location that can be specific to a particular stream, video-conferences with various speakers and week long programs be set up for the entire group in a common location, usually once a quarter.
Field sessions: participants go and conduct programs joining the team of connects of that stream in the center. Responsibility and experience will increase day by day and be monitored by the mentor.
Personal study and research: To take the sessions further, mentors should encourage fellows to study the areas in which they are posted, the Heartfulness material available, what is done in this sector with references. They should help develop new/revised material. Fellows should be encouraged to build up study protocols that will allow Heartfulness to have data about the effect of Heartfulness on a certain population.
Exposure sessions: Fellows can be exposed to new experiences while attending related conferences or events. Fellows will have to travel to different cities in India.
One-on-one interactions with a mentor: Mentors should take the time to sit with the fellows once a fortnight to review the activities, progress of each fellow, answer questions and boost them forward.
Further educational Courses: Fellows will be given the possibility to take up further educational course, online or in person, in the fields they chose for their own improvement.
Streams
Fellows have been posted so far in the Heartfulness streams below:
– HFN Life
– S-Connect
– HFN@Work
– NGO connect
– CME: Continuous Medical Education
– Brighter Minds
– Wellness and Yoga
– Teacher Training programs
– Writing and Editing
– Green Kanha
Placements
The current batches are placed in Delhi – RK Puram, Mumbai – Panvel, Bangalore – Param Dham and CREST, Lucknow, Kolkatta – BMA, Manapakkam – BMA, Kanha Shanti Vanam, Hyderabad.
Stipend and Infrastructures
---
Technical support:
The fellows are strongly invited to bring their own laptop for the duration of the course. In the case where fellows do not have a personal laptop, HET will try to provide the lending of a computer exclusively for the usage of the fellow for the duration of the program (1 year) in their placement.
Access to broadband uninterrupted Internet connection is given to all fellows with the possibility to join calls and meetings even after working hours.
Transports:
Transports for any HFN related program or event is reimbursed by HET on presentation of a bill approved by the mentor. Travel policies are shared at the time of induction.
Stipend:
Fellows receive a stipend of Rs. 8.000 per month deposited in their bank account, for the entire duration of the program.
Accommodation:
Fellows are given simple and comfortable accommodation in one of our Heartfulness center with shared bedroom and a workspace.
Food:
A healthy and balanced diet is offered to the fellow students as part of their stay. In case of posting to places where there is no facility, a food allowance is given to the fellows.
Insurance:
Fellows are on pay roll in Heartfulness Education Trust. A minimum medical insurance is automatically set up.
Progress
---
The fellows will be supported and assessed during the program in developing or strengthening the different qualities below.
Knowledge: Deepen his/her understanding and practical knowledge of all HFN practice elements
Commitment: Assist in various HFN initiatives based on training provided from trainer and mentor, address the tasks and project given with full confidence
Discipline: Develop inner discipline applied in all areas of study and work, on time reporting and following deadlines
Team work: Collaborates with various teams in HFN initiatives and at the center level to ensure comprehensive/ cohesive and harmonious working environment.
Problem solving: develop excellent analytical, problem-solving, negotiation skill, ability to use own judgment and take initiative in problem resolution
Planning and management: Develop strong strategic management and planning skills, task and project management skills
Communication: Strengthen the communication skills needed to interface with high-level customer representatives and adapt to the audience as well
Presentation: Communicates in formal presentation settings including medium sized groups, internal and external project team; develops written communications to address varied styles and information needs.
Contribution: Passion to excel in various HFN initiatives and become a key contributor to this whole program, develop teaching skills to pass on this passion to the other members of the team
Initiative:  Start new avenues and new areas of activities, leadership skills to guide and mentor the work of less experienced volunteers