Heartfulness Wellness Channel
---
The Heartfulness Way
If you knew there was a practical way to transcend suffering and fly into the sky of hope and contentment, would you be interested?
That is exactly what Heartfulness offers – transforming us from the inside out so that we see the world in a new way, without the filters of our limitations.
---
Guided Relaxation
Learn a simple relaxation technique that you can practice before you start meditation, or as a restorative and refreshing booster break.
---
Guided Meditation
Connecting with the heart means delving into a silent source of openness and peace, witnessing non-judgementally.
---
Guided Rejuvenation
Be in a state of mental rejuvenation and lightness by removing the stressful impressions from undesireable interactions of the day.
---
Sleep disorders are problematic for many people, and can lead to other health issues. Neurologists say that in 80% of cases the reasons behind sleep problems are anxiety, fear, and worries related to work, family, the house and other responsibilities. They recommend that we need a good night's sleep so that our lives are productive and enjoyable.
In this video, we are guided through a simple sleep meditation to drift into sleep naturally and peacefully. Try it and see how things change for you during the day.
---
An Invitation
It has been a privilege introducing you to Heartfulness. On behalf of Kamlesh Patel, the Heartfulness Guide, also known as Daaji, and all Heartfulness members, it gives us immense joy to invite you to an international seminar, "Designing Destiny Through Heartfulness" from Friday 7 to Sunday 9 February 2020 at Kanha Shanti Vanam. This retreat will celebrate 75 years of Heartfulness group of institutions. Kanha Shanti Vanam is the International Heartfulness Centre at Kanha Village, Ranga Reddy District, Hyderabad, Telangana.
It is a momentous occasion for us. We would be delighted if you could join us for what could be a unique inner experience, and an event of a lifetime.
EXPERIENCE
The inner stillness afforded by the simple, secular and unique Heartfulness practices along with 20,000 other people from different parts of the world and walks of life.
EXPOSURE
To the science behind the basic benefits of Heartfulness, which include inner peace, focus and stress release, as well as personal mastery through refining the personality, and the ultimate goal of Heartfulness, universal oneness.
ENVIRONMENT
In an atmosphere of simplicity, purity and beauty that intensifies the inner experience. Kanha Shanti Vanam is a 1300 acre lush pristine model village 25 kms from the Hyderabad airport.
We have an interesting program planned for you: 5 group meditations conducted by Daaji, plenty of opportunities to learn more about Heartfulness, a cross section of people from around the world and from your domain, and an opportunity to pause and reflect, walk and cycle in the beautiful grounds, attend Yoga classes and generally rejuvenate.
We hope you will find inspiration, and a fresh perspective on life. We look forward to hosting you and invite you to register at https://heartfulness.org/kanha/spiritual-retreat/ for the seminar so that we may plan well to host you.
---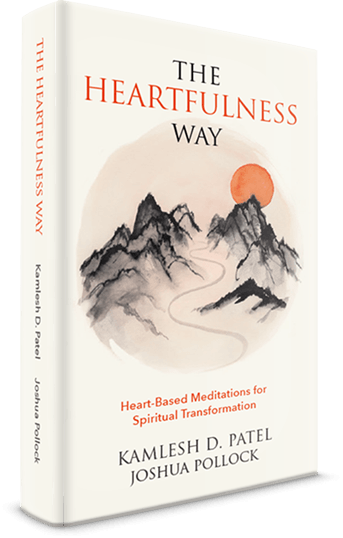 Our spiritual journey now has a guidebook
'The Heartfulness Way' is an easy-to-read book that serves to provide a foundational understanding of Heartfulness. Building on ageless oral tradition, Kamlesh D. Patel – widely known as Daaji, the global guide of the Heartfulness tradition – traces a seeker's journey as he examines the nature of an inner search. Through a series of illuminating conversations between a teacher and a student, Daaji reveals the principles of the Heartfulness practice and philosophy to Joshua Pollock, a Heartfulness practitioner and trainer.