[rev_slider alias="Peace Day 2019″]
Let's meditate For Peace
This International Day of Peace, we invite you to meditate with millions of Heartfulness practitioners all over the World in meditating for Peace as inner peace leads to World Peace.
A day in which millions if not billions of humans will be actively be focused on a peaceful future. With the hope of humanity in the mind, join Daaji, our global spiritual leader, as he guides us – step by step – on a more accepting, more respectful way forward.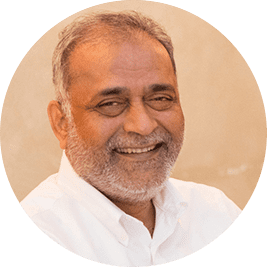 Daaji's message for International Day of Peace
Dear friends,
As a daughter, a mother, a father, a son, a life partner, a friend, a colleague or a citizen, we all want to be the best we can possibly be, but often we fall short of our dreams. We may regret the hurt we cause others and the way we feel about ourselves in our hearts. We often prefer to avoid looking inward when we are disappointed, so instead tensions build up inside. But that doesn't bring positive change. The good news is that mastering our inner world is not difficult and it is not costly. In fact, it is available to everyone.
What is this life-changing tonic?
It is called meditation. In meditation we learn to master ourselves, and as a result we are able to function so much more effectively in the world. Meditation teaches us to pause, to go within, to connect with universal love, and to resurface refreshed and full of potential.
Through meditation, we can be free from anxiety. Through meditation, families come together. Through meditation, our office environments change. Through meditation, we can be at peace.
Simply by closing our eyes?
Well, try it and see. When we close our eyes and allow our inner world to reveal itself, we will feel what is needed in any moment. When we are silent, the knowledge of what is wrong, what is unnatural, what is not beneficial will become clear and we can easily avoid those situations.
But that is not all. With the help of yogic Transmission in Heartfulness, we are able to dive so much deeper in meditation, and experience the true inner peace at the center of our being.
In today's world, this is a very welcome pause. Otherwise, we are so conditioned to live with the constant inner turbulence of judgments, likes and dislikes, and our emotional baggage that accumulates all the time.
Once we connect to our source of inner stillness, family relationships become stable, and the rest is then automatic – neighbors, community, relatives and friends will all feel the change that comes from a life full of light, not burden. And all this is so much easier when the heart starts speaking. The heart never misguides us. The trick is to know when the heart is speaking. That is one reason we meditate.
When many of us meditate together with hearts filled with love, unity and peace will come automatically. The source of love is Divinity itself, and it is present in all our hearts.
On this
International Day of Peace, 21 September 2019

, let's harvest that love and together pause for peace. Join us in Heartfulness Meditation to bring about a peaceful world.
All the best,
Kamlesh Patel
Heartfulness Guide
Multilingual Guided Relaxation and Heartfulness Meditation Audios
Chinese
English
French
Gujarati
Hindi
Japanese
Portugese
Russian
Spanish
Tamil
Telugu
DESIGNING DESTINY
Heartfulness Practices to Find Your Purpose and Fulfil Your Potential
By the author of the best selling book 'The Heartfulness Way'
Sign up to download latest eMagazine
---