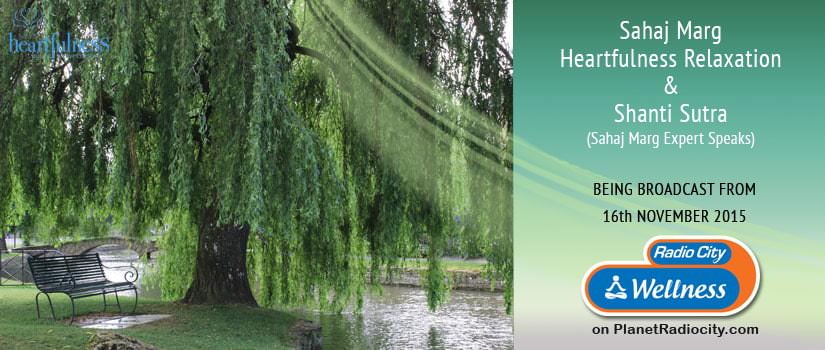 Sahaj Marg
Heartfulness Relaxation
We invite you to listen in to the Sahaj Marg Heartfulness Relaxation technique on the Radio City Wellness channel on www.PlanetRadiocity.com
This will be played everyday at 7 a.m., 4 p.m. and 9 p.m. (IST) until 25th December 2015. It will be broadcast in English and in Hindi.
This relaxation technique can be done by anyone whenever they feel the need to relax or calm themselves physically or mentally.
Try it out, follow the guided relaxation and experience the benefits for yourself!
Shanti Sutra
Sahaj Marg Expert Talk
This programme is being broadcast on www.PlanetRadiocity.com at 10 a.m. and 5 p.m. (IST) on Mondays, Fridays and Sundays.
Shanti Sutra is a new program on the Radio City Wellness channel which plays meditative and ambient music.
The hour-long program will have music interspersed with a Sahaj Marg trainer talking about the need for meditation in our lives and how it can bring about a change in our way of thinking and living. You can also learn how to meditate the Sahaj Marg way by following the easy to follow steps which will be explained in the show.
Shanti Sutra Jingle MP3

Radio City Wellness Poster