Day
1

Relax.
Expand consciousness
In the first class, learn Heartfulness relaxation for physical well-being, as well as the Heartfulness guided meditation on the source of light within your own heart.
Time duration: 45 minutes.
Day
2

Rejuvenate.
Simplify
In the second class, be guided through a simple rejuvenative technique to unwind the mind at the end of the day, to let go of stresses and emotions, and simplify your life.
Time duration: 45 minutes.
Day
3

Connect.
With your inner self
In the third class, learn to connect with your inner self by listening to the heart's voice. Observe your deepest feelings, make wise choices and weave your destiny.
Time duration: 35 minutes.
Naturally, the benefits of attendance are
exponential
By attending The Science of Stillness masterclasses, you'll learn to:
Relax at the physical level.
Deepen your meditation.
Let go of stress – Rejuvenate.
Make wise life choices.
Nurture relationships.
Meditate on the heart.
Simplify thoughts.
Connect to your inner self.
Find inner strength.
Find joy within.
Experience transmission.
Unwind the mind.
Observe your deepest feelings.
Develop confidence and balance.
Registration
Register for your
free masterclasses

Give the gift
of masterclasses

---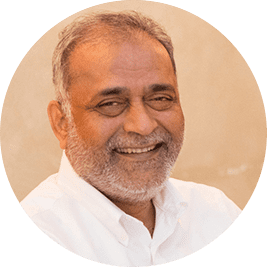 Known to many as Daaji, Kamlesh D. Patel is the fourth guide in the Heartfulness tradition of meditation. Embracing the many roles of a modern-day teacher, he has that rare capacity that allows him to dive deep into the center of his existence in the heart, and simultaneously have a scientific approach to original research in the field of meditation, spirituality and human evolution.
He is a prolific speaker and writer, and you can read his latest series on the evolution of consciousness. To learn more about Daaji, go to www.daaji.org.
If you have a question for Daaji, simply ask.
All information will be treated in the strictest confidence.
For more information,
please read the media release
here …